Cooking Thyme With Tristan: TT's Chicken Enchilada Soup
It's way too hot for this I suppose but for me, hard times call for comfort and soup is tmy
go-to comfort food! It helps with anxiety and because we are living through one of the
wildest times EVER, it is much needed. I will happily eat a hot soup in 90 degree weather
if it means my nerves will calm down!
Grab a can of Canada Dry, enjoy the soup and don't forget that Black Lives Matter. Oh, and PLEASE VOTE!
WHAT YOU WILL NEED
4 chicken tenderloins
2 cans of Old El Paso enchilada sauce
1 can of black beans
1 can Rotel – mild
1 can of 3 bean in chili sauce
1 cup of heavy whipping cream
2 tsp of cumin
2 tsp red pepper flakes
1 tsp onion powder
Salt and pepper to taste
CHICKEN PREP
Cut tenderloins into bite size and season with 1 tsp of cumin and 1 tsp of red pepper
flakes. Cook until golden brown.
THE SOUP
Mix in the rest of the ingredients, bring to a boil and add the chicken. Let it rest for 10
minutes and serve hot with shredded sharp cheddar and street taco size tortillas!
It's one of my all time favorite dishes!
Enjoy!
Until next time…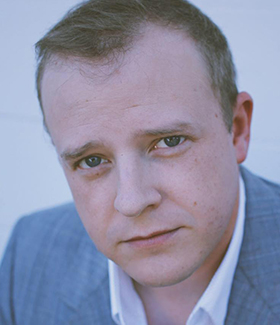 Tristan Layne Tapscott has been dubbed the "Quad Cities' P.T. Barnum" and although the person who initially said it meant it as an insult, he happily accepts the title.